2017 Conference: Schedule and Directions
The conference takes place on Wednesday, February 15th, 2017.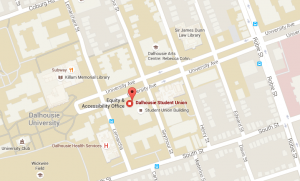 The conference takes place in the McInnes Room in the Dalhousie University Student Union Building (SUB), 6136 University Avenue, in Halifax, Nova Scotia. When you arrive, make your way up the stairs to the second floor, and the McInnes Room is on the right.
Keynote Speaker: Wayne Smith
Wayne Smith holds Honours Bachelor of Arts and Master of Arts degrees in Economics from Carleton University in Ottawa, Canada.
After a number of years working in the library and academic sectors, Wayne Smith joined Statistics Canada in 1981. During his 35-year career at Statistics Canada he served as Director of Communications, Director of Special Surveys, Director General of Regional Operations, Assistant Chief Statistician for Communications and Operations, and Assistant Chief Statistician for Business and Trade Statistics. In 2010, following the resignation of his predecessor, Wayne Smith became interim Chief Statistician of Canada and, in January 2011, was confirmed as Chief Statistician. He presided over a period of unusual external turbulence and internal dynamism for Statistics Canada, embracing the government's imposition of a voluntary long-form census for 2011 and the return to fully mandatory census in 2016. Other major thrusts of his tenure include: removing all charges for Statistics Canada data products and services, and all restrictions on their use and redissemination; opening up of researcher access to the Agency's information holdings; and exploration of alternative data sources for statistical use including government administrative data and private sector "big data".
Internationally, Wayne Smith has served as the Chair of the Conference of European Statisticians and the Vice-Chair of the OECD's Committee on Statistics and Statistical Policy. In 2014, he served on the United Nations Secretary-General's Independent Expert Advisory Group on a Data Revolution for Sustainable Development. The Expert Group's report, A World That Counts, touches on many issues of digital governance.
On September 17, 2016, Wayne Smith resigned from the position of Chief Statistician of Canada due to his concerns regarding intrusions on the independence of Statistics Canada and on the Agency's ability to protect the confidentiality of identifiable respondent information.
Keynote Speaker: Dr. Amanda Clarke
Amanda Clarke is an Assistant Professor with the School of Public Policy and Administration at Carleton University. From 2010-2014, Amanda was a Trudeau Scholar, an Oxford University Press Clarendon Scholar, and a Doctoral Fellow of the Social Sciences and Humanities Research Council of Canada. In 2014, she completed a DPhil exploring digital government in Canada and the United Kingdom at the University of Oxford.
She is currently researching digital era policy design, public sector innovation, Open Government and civic technologies in Canada and internationally. Amanda also advises governments, international organizations and non-profits on issues related to digital era governance, including most recently the Governments of Ontario and Canada, the European Commission and the Mowat Centre. You can find her work at www.aclarke.ca or on Twitter @ae_clarke.
For the complete list of speakers at the 2017 conference, see 2017 Speakers.

The IWB Conference Committee is excited to announce the topic for next year's conference.  The 2017 conference will be on Digital Governance.  Discussion at the conference will consider the following aspects of digital governance-related information:
Social Media/Citizen Engagement
Privacy
Open Data Initiative
Internal and External Communications
The conference will be held on Wednesday, February 15, 2017. For the latest conference news, follow us on Twitter (@IWB_Conference) and like us on Facebook.
| | | | |
| --- | --- | --- | --- |
| | Find out who will be presenting at the IWB Conference | Follow news & updates relating to the 2016 IWB Conference | Register for the upcoming conference |