2016 conference: Schedule and directions
The conference takes place on Wednesday, February, 10th, 2016. Check out the full schedule for the 2016 conference!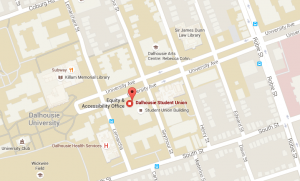 The conference takes place in the McInnes Room in the Dalhousie University Student Union Building (SUB), 6136 University Avenue, in Halifax, Nova Scotia. When you arrive, make your way up the stairs to the second floor, and the McInnes Room is on the right.
Opening keynote speaker: Gail Crook
Gail has been a certified member of the Canadian College of Health Information Management since 1982.  She is also been a certified member of the Canadian College of Health Leaders since 1999.   Gail has an extensive background in developing and applying the principles of privacy and security of patient records; the collection, dissemination and quality of health information; and work experiences regarding the transition to the Electronic Health Record.  Gail sits on many National and Provincial committees and has published and presented both nationally and internationally on these subjects.
Gail became the Chief Executive Officer and Registrar for the Canadian Health Information Management Association in March of 2001.   In this role she works with the CHIMA Board of Directors, CHIMA members and external stakeholders to ensure the quality of Health Information submitted to numerous Provincial and National databases, polices and position statements for the privacy of patient information, and the development of a sound e-HIM strategy to ensure the successful transition of records management principles from the paper to the Electronic Health Record in Canada.
Closing keynote speaker: Dr. Robert Strang
Dr. Robert Strang is Chief Public Health Officer in Nova Scotia, appointed in August 2007.  He received his medical degree from University of British Columbia and completed Family Practice and Community Medicine residencies at UBC.
Dr. Strang was an Associate Medical Officer of Health in British Columbia from 1997-1999 and in 1999, he moved to Halifax to become Medical Officer of Health for Capital District Health Authority. He was Acting provincial Deputy Chief Medical Officer of Health prior to his CPHO appointment.
As CPHO, he has provided leadership around the renewal of the public health system in Nova Scotia as well as raising awareness around the importance of creating policies and environments that support better health for Nova Scotian families and communities.
He is passionate about public health and has worked with non-government organizations such as Smoke Free Nova Scotia, Heart and Stroke Foundation and Public Health Association of Nova Scotia.
Dr. Strang has an adjunct appointment with Dalhousie University, Department of Community Health and Epidemiology.
For the complete list of speakers at the 2016 conference, see 2016 Speakers.

On February 10th, 2016, the 10th annual student-run Information Without Borders Conference (IWB) will be held in the McInnes Room at Dalhousie University's Student Union Building. The topic for the 2016 conference is Managing Health Information: Technologies and Strategies for the 21st Century. Discussion at the conference will consider the following aspects of health-related information:
How the management of health care data and records is evolving
Where consumers turn to for reliable and accessible health information
How Health Informatics and emerging information technologies transform health care
The role of Information Managers in supporting evidence-based health decisions
For the latest conference news, follow us on Twitter @IWBConference, and like us on Facebook.
| | | | |
| --- | --- | --- | --- |
| | Find out who will be presenting at the IWB Conference | Follow news & updates relating to the 2016 IWB Conference | Register for the upcoming conference |