Speaker Biographies
Read about speakers at the 2008 Information without Borders Conference.
Eric Stackhouse
Eric Stackhouse is Chief Librarian of the Pictou-Antigonish Regional Library. A graduate of UWO's School of Library and Information Science he has worked in school, university, and public libraries in three provinces. Eric has served on many national, provincial, and local committees and is currently the Chair of the Nova Scotia CAP Association. He is also very proud to be the recipient of the Norman Horrocks Award for Library Leadership.
Eric advocates using the strengths found in libraries to further the development of communities, socially, culturally, and economically. He also believes libraries have a vibrant and critical role in society if they build on the strengths of their traditions but be prepared to be innovative and responsive to local needs.
Stephen Abram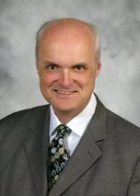 Stephen Abram, MLS, is the President 2008 of SLA and the past-President of the Canadian Library Association and Vice President Innovation for SirsiDynix and Chief Strategist for the SirsiDynix Institute. He has been VP of Corporate Development for Micromedia ProQuest and Publisher Electronic Information for Thomson. He ran libraries for Suncor, Coopers & Lybrand, Smith Lyons Torrance Stevenson and Mayer and Hay Group. Stephen has been listed by Library Journal as one of their first "Mover and Shakers", the 'key' people influencing the future of libraries and librarianship. He has been awarded SLA's John Cotton Dana Award as well as being a Fellow of the SLA. He was Canadian Special Librarian of the Year and Alumni of the Year for the Faculty of Information Studies at the University of Toronto. He is an adjunct professor at the University of Toronto, Faculty of Information Studies. He was President 2002 of the Ontario Library Association as well as sitting on the SLA Board of Directors as Director and Secretary. He gives over 90 international keynote talks annually to library and information industry conferences and writes articles and columns for Information Outlook, Feliciter, Access, Multimedia & Internet @ Schools, and Library Journal. He is the author of ALA Editions' bestselling Out Front with Stephen Abram.