Announcing our 2020 lineup of conference speakers! This page will be updated as speakers are confirmed. Stay up to date with on our latest news by following us on Twitter, Facebook, and Instagram. Information Without Borders is an annual conference run by graduate students in Dalhousie's Master of Library and Information Studies and Master of Information programs. Information Without Borders provides an opportunity for Information Management professionals, students, and academics to engage in interdisciplinary discussion and learning.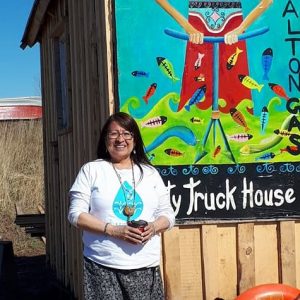 Dorene Bernard, is a Mi'kmaq Grassroots Grandmother, Water Protector, Water Walker, and Survivor of the Shubenacadie Indian Residential School. She has a BSW from Dalhousie University, 1991 and MSW Aboriginal Field of Study, from Laurier University, 2013. Her 20+years Social Work career focused on Native Child Welfare and Community Support with survivors and families of the Shubenacadie Indian Residential School, documenting the history and legacy of the Indian Residential School and the IRS Commemoration Project. She was the Coady International Institute Chair in Social Justice 2017, working to educate on Indigenous issues, Environmental Racism, Climate Justice and Truth and Reconciliation. Dorene coordinates the Grassroots Grandmother Circle in social justice work, child welfare issues, Missing and Murdered Indigenous Women, cultural education, and Water teachings, inspired by her grandchildren and the late Grandmother Josephine Mandamin, Mother Earth Water Walker.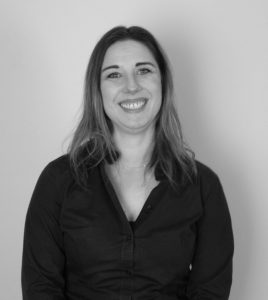 Sara Beanlands is a founding partner of Boreas Heritage Consulting Inc., an independently owned company of archeology consultants, heritage researchers, and geophysics experts, specializing in cultural resource management. Over the past 25 years, she has undertaken a wide range of historical and archaeological research projects and has worked extensively throughout Atlantic Canada, including the Labrador interior. Before becoming a Principal and Senior Archaeologist with Boreas Heritage in 2013, she completed a Bachelor's degree in history and anthropology at Dalhousie University and a Master's degree in history at Saint Mary's University. Ms. Beanlands has worked closely with communities across Nova Scotia and is committed to making archaeology accessible to the Mi'kmaw Nation as they build capacity and progress toward self-determination. Having twice served as President of the Nova Scotia Archaeology Society, she is currently an adjunct professor in the Department of Anthropology at Saint Mary's University and President of the Royal Nova Scotia Historical Society.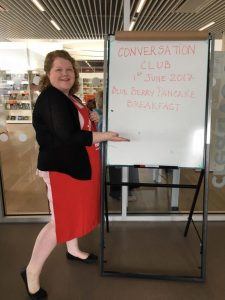 Emily is a Registered Dietitian and professionally trained chef located in Halifax, Nova Scotia. Throughout her career she has developed and implemented hundreds of food and nutrition programs, and specializes in teaching healthy cooking classes for all ages. Emily has offered healthy cooking class with Sobeys Dietitians, Halifax Public Libraries, and for local Universities in Halifax. Emily currently works as the Food Literacy Specialist for Halifax Public Libraries, where she is developing a program model that will address food literacy skills for all ages, reducing food insecurity within our community, and promoting healthy eating and nutrition.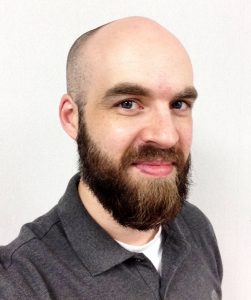 David is the Program Leader for Fedora at LYRASIS. He sets the vision for Fedora and serves as strategic liaison to the steering committee, leadership group, members, service providers, and other stakeholders. David works together with the Fedora Technical Lead to oversee key project processes, and performs international outreach to institutions, government organizations, funding agencies, and others.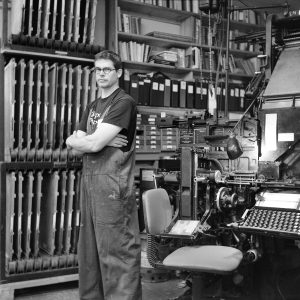 Andrew Steeves was born in Westmorland County, New Brunswick. After taking degrees in Criminology and English, he settled near Kentville, Nova Scotia, and founded Gaspereau Press in 1997 with Gary Dunfield. He spends his time reading, writing, editing, designing, typesetting, printing, binding, marketing, selling, and talking about books. His most recent project is the artist book Literarum Ex Arboribus: An Exuberant Showing of Wood Type at Gaspereau Press (2020), a three-year undertaking that resulted in the creation of over 150 wood type specimens.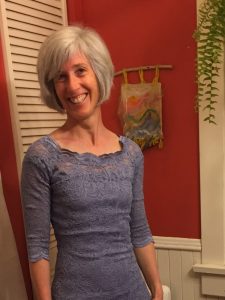 Susan has a Masters of Archival Studies from the University of British Columbia and worked at the Yukon Archives and the Archives of Ontario before moving to Halifax in 2004. She was very fortunate to have the opportunity to start up the Halifax Municipal Archives, which officially opened in 2006. She is active in the Nova Scotian and Canadian archival communities, currently serving as President of the Council of Nova Scotia Archives. Susan has enjoyed interacting with School of Information Management students through mentoring, talks and practicum and volunteer placements.
Away from the Archives, Susan enjoys cross-country skiing, cycling, running, canoe-camping, reading and exploring with her 2 daughters and partner. They live in the West End of Halifax, so Susan has a great cycling commute to the Archives in Burnside.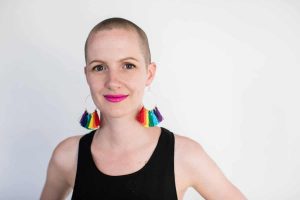 Rebecca Rose is a Cape Breton-born queer femme, feminist, and freelance writer who has spent her adult life going between Halifax and Toronto. Rebecca's writing focuses on queer and trans people, communities, and histories; misogyny; and social movements. She has a journalism degree from Ryerson University. Rebecca's own queer activism has spanned the last decade, including involvement in Nova Scotia's 2SLGBTQIA+ advocacy group and as a founding member of the Halifax Dyke and Trans March.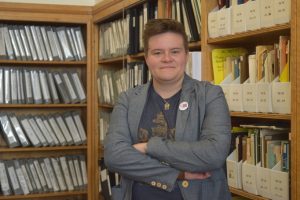 Meredith J. Batt grew up in Moncton and has been living in Fredericton since September 2018. They are an Assistant Archivist at the Provincial Archives of New Brunswick. Meredith earned a B.A. in History at Université de Moncton. They are now the Vice-President of the Queer Heritage Initiative of New Brunswick, which aims to collect the 2LGBTQ+ history of the province. Meredith is a proud New Brunswicker who enjoys biking the trails of Fredericton, reading about Queer History and listening to podcasts.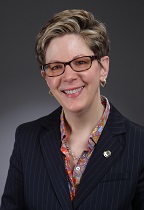 Dr. Gahagan is a Full Professor of Health Promotion in the Faculty of Health at Dalhousie University. She holds Research Associate positions with the Jean Monnet European Union Centre of Excellence, the Health Law Institute, the Beatrice Hunter Cancer Research Institute and is an Affiliate Scientist with the Nova Scotia Health Authority. Her program of health promotion research focuses on policy and programming interventions using sex and gender-based analyses (SGBA+) to address health inequities faced among marginalized populations at high risk for poor health outcomes such as those living with or affected by HIV, HCV or other STBBIs, older LGBTQ+ populations and those involved in sex work. Prior to joining Dalhousie University, Jacquie worked in public health at the municipal, provincial and national levels in relation to harm reduction, HIV/HCV prevention, and tobacco use cessation.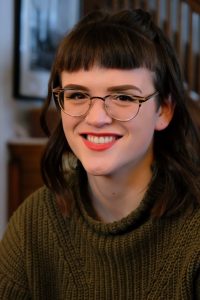 Lydia Hunsberger grew up in Elmira, Ontario and moved to Nova Scotia to pursue a BFA majoring in Photography at NSCAD University. Graduating in 2018, Lydia is currently a research assistant with the Nova Scotia LGBT+ Seniors archive and a second-year student in Dalhousie's MLIS program pursuing  an interest archives, community outreach, and public programming. Lydia works primarily in acquisitions and processing, collecting and organizing materials in order to make them accessible to researchers. Lydia is excited to have the opportunity to work closely with other members of the queer community to help preserve and promote local queer history.